En this post we'll review the LBT-1879A chest rig reproduction made by Toy Soldier. It's a bit extensive (and intense) but I hope you enjoy it.
The original one

The full name of this piece of gear is LBT-1879A Split Front Flotation Vest. Origin of this vest goes back in time to oldschool days. Although nobody really knows what oldschool is: some say it's M81 woodland and LBV-88; others claim it's DCU and MLCS; for others, AOR1 with tan webbing is it. Then boomers come and talk about Viet-Nam, Korea, Rhodesia and other gibberish. But the real oldschool is the Roman Empire military reenactment (XD).

OK, let's get to the point. This vest (and it's multiple versions) were used from mid 90's to early 2000's decade. And when we say many versions it's because there are a good amount. This is the A version, but (from top of my head) B, E, H, and N also exist. Each one with their differences and even sub-versions (like B model with A model flaps). And I'm probably forgetting about some. LBT (as most manufacturers did back then) produced multiple non-standdard versions of their products. 90's gear was a madness! This one from the upper pic belongs to a real LBT-1879A in OD green with an extra layer of spray paint to go on a vacation at beginning of the XXI century .
Most of ref. pics of this vest are related to early phases of Operation Enduring Freedom, the Afghanistan invasion, by members of Army SF or Navy SEALs members (in the picture above, Brandon Webb, SEAL Team 3). But it's introduction probably happened during the second half of the 90's. Latest references are from 2005, both in Afghanistan (concurring with the famous Op. Red Wings) and a training exercise from SEAL Team 3 before their deplyment to Ramadi in the year 2006.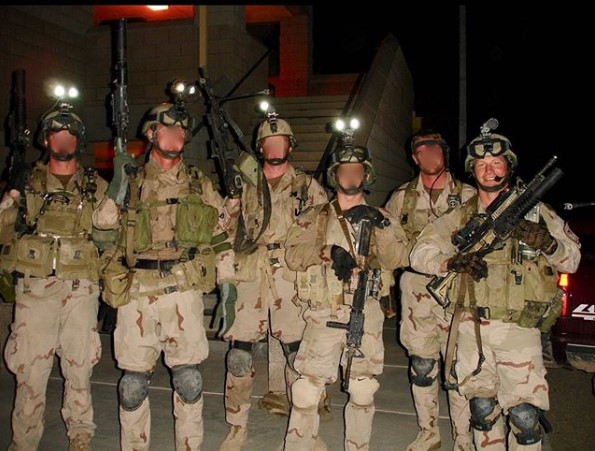 Review
Using you imagination, the LBT-1879 is like a vitaminazed (and modernized) version of a load bearing vest you probably already know: the LBV-88. If you want some ideas on how to use the LBV-88 you can check our Tears of Sun kit lists.
As you can see, the idea of this type of vests, known as split vest is that you can open it in the front. This way you can equip it quickly or lay in prone position comfortable. This idea was discarded in other chest-rigs you might know like the LBT-1961 (link to our review of the Pantac repro, in Spanish) or Eagle Industries RRV. But that solution returned "recently" in the 1961G (review of Flyye's AOR1 repro) or the Eagle Industries MPCR.
The LBT-1879A is a chest-rig divided in two panels with two magazine pouches and and an utility pouch on each. This replica made by Toy Soldier is manufactured completely in OD green nylon. There are also versions in M81 woodland  and DCU.
Central pouches
As you can appreciate in the picture, the four central pouches the vet featured, while designed for magazines, can be used to carry multiple items. They're closed by a combination of Velcro and button. Each pouch can fit up to 3 STANAG mags. I don't have access to different mags right now, but it can also fit 3 Kalashnikov and 2 G36 magazines. For other weapons (HK417, G3, FAL, etc.) this pouches are deep and you'll need some filler so they don't sit too deep.
Other ways they can be used? As utilities for everything you need. In the pic you can see a Puxing radio. As stated before it's too short for the depth of the pouch and a Baofeng with extended battery will be easier to handle. Another option (seen multiple times in ref. pics) is carrying our secondary weapon, in this case a Sig Sauer P226. Beware! Pouches aren't designed for that so don't expect the retention level of a Safariland holster, you might lose your mag. Other models like the Glock 19 might fit even looser.
Utility pouches
Both utility pouches are quite big and closed by zippers. If I'm not mistake, here's a reproduction error. Looking again to the pics of the original LBT-1879A above, the zipper has two sliders. Toy Soldier repro uses only one.
You can carry a canteen in them. That's an USGI canteen, it's almost too big but fits in the end. I'm unaware if it also happens in the real one, but it's something to complain about.
In this other picture you can see an example of all the stuff you can carry in a single utility: peanuts, knife, head-lamp, flashlight, lighter, compass, binoculars (shitty ones, don't mind me) and multitool.
Frontal closure
The fun part of an split-vest is to open it in the central part. For that it features two black buckles. They're attached to a velcro strip allowing to change the length. This way we can quickly adjust the vest to wear it with or without body armor.
Straps
Shoulder straps in this vest are crossed in our back in the typical X fashion we can see in load-carriers from this era. If you find that uncomfortable, Toy Soldier also makes the padding for the straps.
In addition, straps feature two strips of nylon for multiple uses: attach a PTT, cable management, or whatever the user wants to do with them. Pay attention to the black piece (d-ring) above the strips, we'll talk about it later.
Inner panels
Do you remember the full name of the vest? LBT-1879A Split Front Flotation Vest. Let's talk about it.
In the inner face of the vest we find two big mesh pockets with zipper closure. You can use them for documents, flags, etc.
Or to float. This reproduction features two plastic panels which will provide some extra buoyancy if we fall to a river or the sea. I haven't tested them and actually removed the panels so I could use the mesh pocket. Plus, there's the comfy-factor: flotation panels make the vest too stiff.
Modularity
As you can see, in this repro from Toy Soldeir they used black fastex buckles for the vest, a nice touch. But the d-ring is the important piece now. There are four of them, two in each half of the front side. They're used to attach specific LBT belt pad. It features a set of loops for the vest and another to attach a belt for extra pouches. To keep the 90's cool factor we'd obviously recommend ALICE gear.
The belt pad thing is easier understood in pics than text. This is a pic of an LBT-1879 in woodland cammo with the LBT belt pad, which you can purchase on eBay.
Do you remember the d-rings from the shoulder straps? Together with the middle, unused, buckle in the back (above the horizontal strap) can be used to attach an LBT-0990 backpack (which also has A and B versions, with some variations depending on the year). Above the d-rings there are strips of velcro used (I think) to keep the backpack straps joined with the shoulder straps. That feature isn't present in the Toy Soldier repro. You can find the LBT-0990 in eBay too.
Modularity much? If you want to increase the load-bearing capability of your LBT-1879A, Toy Soldier has a replica of the LBT-099 in OD green. The fastex buckles allows for an almost instantaneous detachment of the backpack, and a combat pack is always a nice addition to this vest.
In the field
You read it, the LBT-1879A is a big vest. What does it mean?
On one hand, bigger allows for many things. You can fill the pouches with (almost) whatever you want. Both for a short skirmish or a non-stop 72h MilSim event. Add to that the LBT-0990 pack and you get an idea.
But at the same time, bigger implies some negative points. For a short skirmish it might be a bit too much. Using all 4 pouches means we carry up to 12 STANAG mags. Kinda overkill. For that kind of game, maybe leave this chest-rig at home and pick something lighter.
And while big, it's also restrictive. Depending on your body constitution this chest-rig might be huge for you (as it happens with the 1961 or MPCR). Take a look at the pic above, that's how you'll "see" the vest when wearing it. If your upper body doesn't have enough perimeter, it might be uncomfortable.
Conclusion
The way I see it, if you're interested in this split vest is because you like it or you want the late 90's – early 00's look. In that case I'm not telling you about the limitations this vest might have. You're more interested in the fidelity with the original. There are 2 mistakes and 1 possible mistake, already mentioned:
Only 1 slider in the utility pouches' zipper when there sould be 2.
Missing velcro in the shoulder straps.
Possible error in the utilities size.
In any case, I think the overall quality and fidelity is good, being a great option for a 90's kit.
If you're not interested in that, don't care about fidelity and look for a vest with great carrying capacity for long games, this might be your vest. You'll like the frontal opening system if you need to lay on the ground or quickly remove for any reason. This vest "hugs" you all around your torso, it's comfortable enough because it does a good weight distribution. Add to that the shoulder pads and belt and you'll have a definitive combo. This nylon seems strong enough and it's light, contrary to other replicas in 1000D Cordura.
Bueno, ya si le metes las hombreras y el ceñidor, tendrás el combo definitivo. El nylon aparenta suficientemente fuerte y es ligero, al contrario que otras réplicas producidas en cordura 1000D. Además, el llevar clips Fastex hace que tengamos un poco más de confianza en ellos.
In conclusion, a vest that works when we look that certain look, and also great for greenside loadouts in long games.
https://www.instagram.com/p/B8_YEdOCYyV/
Toy Soldier 1879A OD
99.50$
Pros
90's gear
Big pouches
Front opening
One of the few replicas available
Cons
Too big for some people
Fidelity errors
Buy us a beer!
If you love what we do, you can make a donation to help ups bring you more awesome content.
Thank you!
[kofi]