New review, this time we'll review the Jumpable Assault backpack from FLYYE, an interesting backpack with a middle size.

The original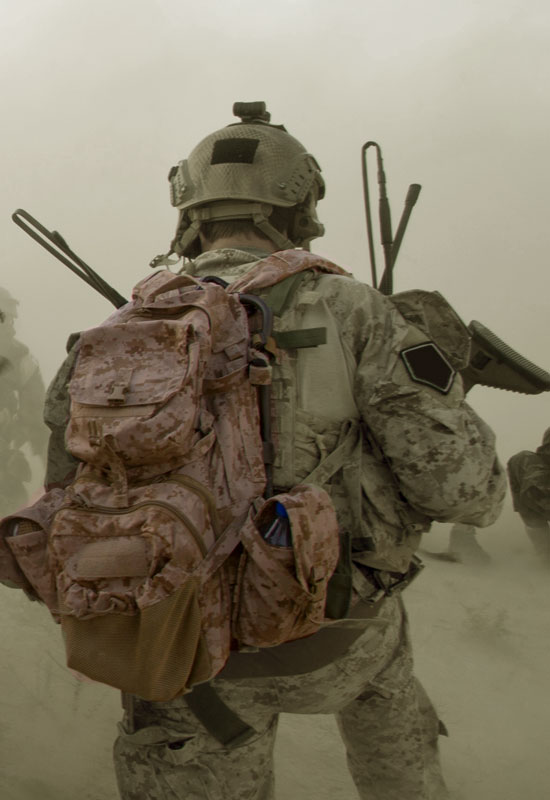 This backpack is a replica of the LBT-2595G, a jumpable backpack, conceived for HALO/HAHO jumps. Although LBT names it "three day" it doesn't achieve the capacity of those models. Picture shows a Navy SEAL operator from Team 3 with the LBT-2595G and various pouches attached to the classical ALICE pack frame.
Review
The backpack is mainly build in CORDURA 500D as FLYYE does in all AOR line, using UTX Duraflex hardware for the D-rings or buckles and YKK zippers.
Like I said, it's an assault backpack: bigger than molle attached packs like the Modular Assault Pack (MAP) and smaller than Three Days. That way we get a comfortable and compact option, allowing us to carry plenty an acceptable amount of stuff for Direct Action missions without losing the ability to quickly take it off. That's the biggest advantage over the MAP and the reason why I got it.
The problem between backpacks and vests comes when placed over the backpanel. You can opt to leave it empty (a chest rig would be a better option then) but the optimal solution is arranging the pouches distribution on the backpanel to achieve a flat surface and then placing the jumpable backpack over it.

In this picture I'm carrying the Jumpable backpack over the FLYYE AOR2 6094 backpanel where I have a canteen pouch and M60 pouch attached. Pouches have different width thus making the backpack shift to my right.
As for features the jumpable has several sections and functionalities.
Padding designed to provide cooling by the air channels and preventing overheating like other backpacks do. We have a zipper to access the first section where we'll store the hydration bladder.

We'll extract the hydration tube through a groove to the main pocket and then through covered ports under extraction handle as we see in the picture.

Then comes the main pocket, I've stored a WE MP7 (which is bigger than Tokyo Marui or KWA versions) to give you an approximate idea of the size. We could carry it as spare gun and have plenty of space for a spare uniform and other gear.
Now we have a smaller pouch, quoting LBT description: zippered false pocket with rollout lightweight flap to secure helmet and NVGs inside. I suggest using some protective cover for your NVG system.

In this case we tried with a MICH2000 repro. It fits but it is designed for more modern helmets such as OPS Core line.
In the outer section we have something similar to an utility pouch. It features a very useful sling for keys (seriously, makes finding your keys extremly easy), two horizontal pockets for documents and two half pockets for bigger objects. I've soted my wallet in one and a radio in the other (there's no port for wires, it's probably for a bottle).
Last we have a net where I put my googles and mask. Cord isn't elastic so there is little room to close the pocket.

Rear part of the jumpable backpack is covered with MOLLE webbing to attach pouches. We can also add small pouches on the sides, lower half. Ref pics shows operators with 40MM pouches over all MOLLE, M60 mag pouch on the back, bottles…

MOLLE is two columns wide, I've attached a frag pouch. There's one row free (it's thre rows high) allowing us to carry M4 mag pouches too.
This video shows how many things you can fit inside (without MOLLE pouches, and there's room for a few more things).
Time to wear the pack! Shoulder straps are semi-rigid: they're not padded but neither uncomfortable.. A highly favorable feature are the quick extraction buckles on the straps. Straps have a velcro loop to roll up straps and not leaving them loose, avoiding the use of duct tape for that purpose. Compression straps on the sides lack these velcro loops.


The Jumpable backpack comes with various additional straps which function is unknown to me. I guess they might be to attach the pack to other gears during HALO/HAHO jumps.
Fidelity
As it could not be otherwise with a replica, we have to assess quality of the reproduction for its use on impressions and reenacting.
Starting with padding, FLYYE's one is brown while LBT makes it in AOR in all versions I've seen (all from 2010 and later), considering we don't see it is a minor mistake.
We have a few more errors on shoulders. D-rings are made by ITW in polymer and FDE colour while LBT uses metalic hardware in black. LBT also uses black velcro loops for straps instead of khaki.


The sternum strap changes between manufacturing dates. FLYYE replicates the full dettachable version but LBT also has a square system like old BlackHawk backpacks.
Last the fake pocket color is yellow on the original jumpable pack.
In summary FLYYE's backpack has various errors, but luckily they're easy to hide.
Conclusion
This Jumpable Assault backpack is a great choice for short skirmishes (missions inside long events)>/strong> if we need a considerable load capacity but less than a Three Days or simply having a better accessibility to our gear than in our back panel pouches. Capacity is enough to carry everything we need for a short game.
It's also an alternative to Eagle's YOTE, which is slightly more expensive and bigger. I'll try to get one and make a comparative review in the future.
I also liked the air channels, normally all flat bags warm my back, but I didn't have that issue with the Jumpable.
And most importantly: it's comfortable. During the time I used it (considerably loaded) I didn't feel an excessive preassure on my shoulders or fatigue.
Jumpable backpacks have are priced around 80$ (65€), 90$ (72€) this AOR1 version. Acceptable price for it's quality and comfyness.
Buy FLYYE Jumpable Assault Backpack at ShooterCBGear

Buy us a beer!
If you love what we do, you can make a donation to help ups bring you more awesome content.
Thank you!
[kofi]