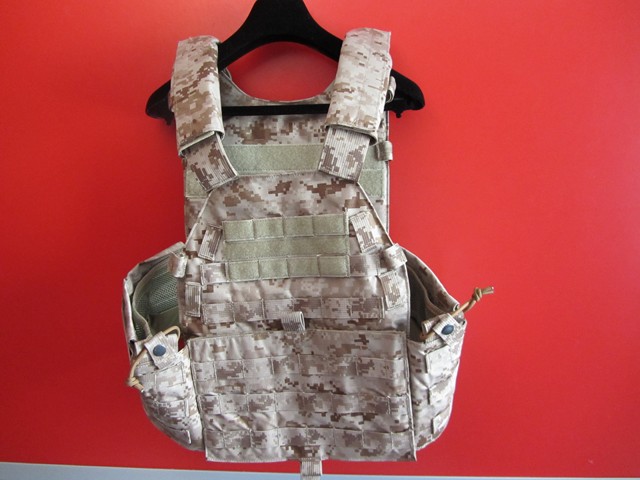 As promised on post ShooterCBGear: March Order today I'll write a review about Flyye 6094 AOR1 vest.

The Original
Originally made by London Bridge Trading (LBT) this  6094 is a plate carrier vest with a compact design (when compared with another plate carriers). It's well known for being used by Navy Seals and DevGru operators. It's design has also been replicated by another brands such as Eagle industries with their MMAC.
Features
These are the features of the original 6094 vest, shared with the reproduction:
-Cordura 500D fabric.
-Fits ESAPI plates. Front, back and side pouches.
-Built-in radio pouches.
-Front inner kangaroo pouch.
-Velcro loops for hydration tubes and wires.
Review
Starting the review this Flyye 6094 arrived inside a plastic bag (as all Flyye products).
On upper half we have three rows of velcro, two of them molle for attaching patches, pouches or accesories (admin pouch and chem-lights are commonly seen). There are another molle sections I use to atach ptts.
Lower half features the kangaroo pouch in which I mounted a TMC MP7 inner pouch. Over it we have 3 molle rows.
One thing I really like is that Flyye has updated their replica and now it's an accurate reproduction of actual gen 6094s (The ones we've seen in use by many soldiers). Most immediately different is the lack of buttons at the bottom. In another hand, this version loses built-in admin pouch (not that I care anyway…)
Molle webbing is the usual one but colored. It's not folded fabric as some brands do.

Flyye 6094 comes with removable velcro pads. At this point I'm really happy of 6094 being 500D made, 1000D shoulder pads are as rigid as steel…
In the picture we can see the velcro loops mentioned earlier. Useful for guiding radio antennas to the back panel and hydration tubes to the front.

This image shows differences with previous 6094 version: No admin pouch and no belt loops. The velcro is used to attach neck protection and foam pads to get a better adjustment.
One very important thing: Despite being labeled as M size I've read in forums that it actually flyye replicated 6094B thus being L size. In any case, it's smaller than TMC panels.

Under the kangaroo are the cummerbund velcro ends which allows us to adjust wais size. Cords help to get cummerbund off.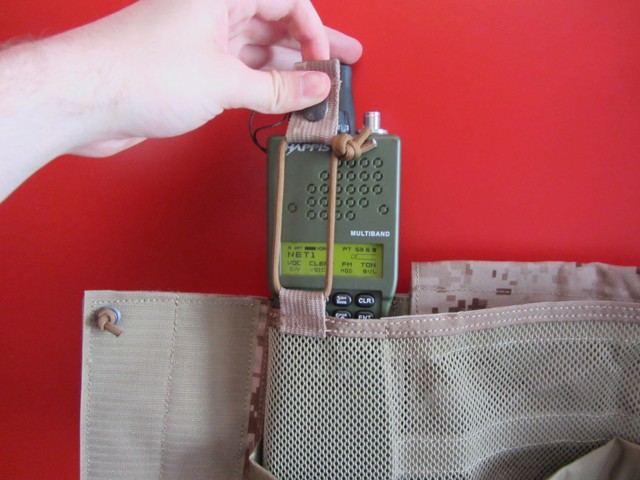 Detail of built-in radio pouch with Z-Tactica PRC-152. You can see how cord can't be buttoned. Not sure if it should be elastic or if Z-Tactical repro is oversized. In case you wan't to carry a smaller radio (as a Puxxing) simply shorten the cord with another knot. On the right we see the side plate's pouch.

Here's back adjustment of cummerbund. It has molle in both faces so we can interlaze bungee cord and shorten it.

And last, a pic of back panel. Not much to say… six molle rows (and hydration pouch would be recommended), two velcro loops and extraction handle.
Conclusion
Final section… I've write the review with my Flyye 6094 on, that should tell you how comfortable it is. And with cordura 500D plus mil-spec sewings it should be durable. Size is also nice and considering I'm thin it should fit well to average people.
Speaking of accurateness, this isn't real AOR1. It's OK for airsoft with a dose of reenacting, but not enough for pure reenacting purposes. You can always order a repro made with real AOR1 fabric, but htey cost more than 300$.
In conclusion considering price and quality, this is the best 6094 replica among  all mass manufactured.
You can buy it at ShooterCBgear. Prize varies from  105$ (plain color) to 2174 (AOR1) and 200$ (full Multicam).
Buy us a beer!
If you love what we do, you can make a donation to help ups bring you more awesome content.
Thank you!
[kofi]